Last year I decided to buy a Secretlab Titan chair, it was my first venture into gaming chairs and I was super excited to see what the hype was about. As it turns out it was one of the, no, it was the most uncomfortable chair I've ever sat in. It felt like sitting on hard cardboard or styrofoam, I could feel the metal bar under the seat putting pressure on my piriformis muscle and well, I quickly sold it.
I spent a decent amount of time looking for a good level midrange chair. So my gaming chair days were behind me, or so I thought, until one of my friend recommended Karnox to me. After looking though Amazon reviews I mostly found positive feedback from people of all different sizes which further concludes my theory that height and weight aren't as important as personal preference. We might be the same height but you might be coming from sitting on tree stumps your whole life while I've been acclimated to soft office chairs in call centers. With expectations low, I'd like to have a try with the Karnox chair similiar to a Secretlab softweave.
The Karnox Legend gaming chair retails for $268, can be found on Amazon in various colors, which I opted for the dark grey one.
Package: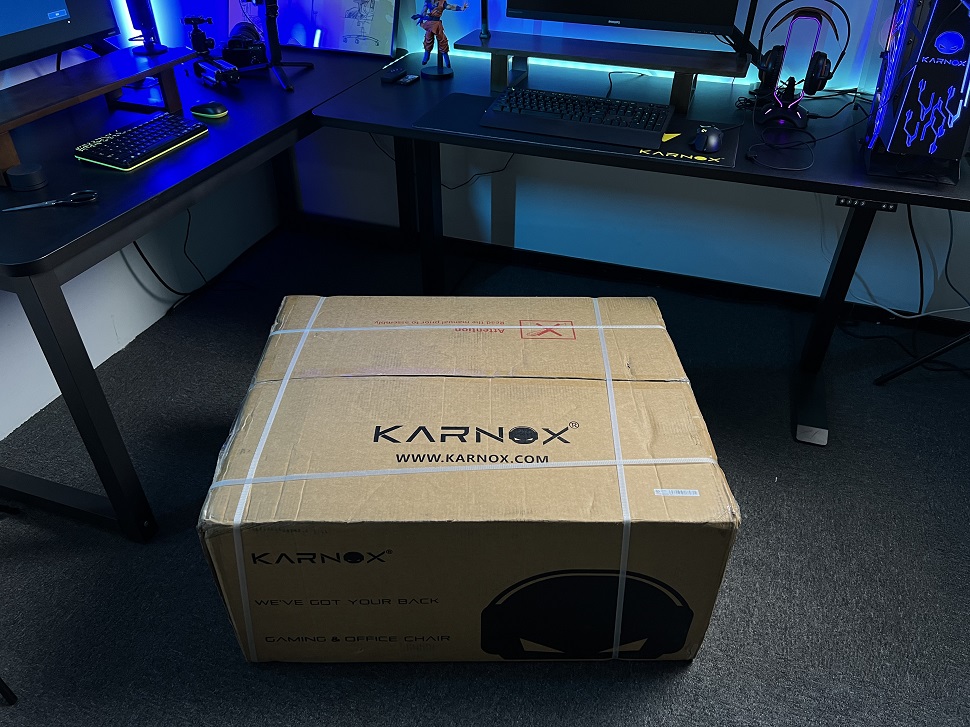 Inside the box we find the star chair base which are made of hard plastic, or as I'd like to boldly go where no man has gone before and call it the star base. Under that, we fount it the bottom of the seat and the box which most likely tools and parts. You will find a Karnox keyboard and mouse pad as a small bonus. I didn't have one already, so I was very happy to find that. And a assembly instruction manual and a thankyou card says the first time something breaks/rips/whatever, to contact their customer service, we'll see if that's helpful or even necessary, but I like the sentiment. To my surprise, very few screws or tools are needed for assembly. There is a neck pillow, a back pillow, the seat of the chair with armrests on, and the back of the seat which features the logo of Karnox, star base I mentioned before, one cylinder and a three-layers-cup for it, and some other necessary accessories inculuded.  
Assemble&appearance:
Came in a medium-sized box, everything was packaged very carefully, and it was easy to take out and assemble. Assembly was relatively painless even by myself thanks to the clear instructions. It took me about 15 minutes by myself to assemble the chair. I noticed the weird smell others mentioned with I opened the protective coverings at first, but didn't notice any smell at all while actually using the chair. When it's assembled, the chair sits 17.5 inches wide, has a depth of 21.7 inches, a height of 53.9 inches. The chair looks nice and stylish. It looks like a relatively normal chair. The fabric itself feels very soft and durable. Other gaming chairs have bright colors and accent lines that just don't quite match my taste. All of the stitching is very well-done, even on the base under the chair they used nice metal rings instead of just stapling the fabric together. The dark grey version, it really blends nicely in with my apartment. I love the sleek and subdued look of it!!! Even My cat loves the gentle fabrics and can't wait to sleep on it before I even installed everything.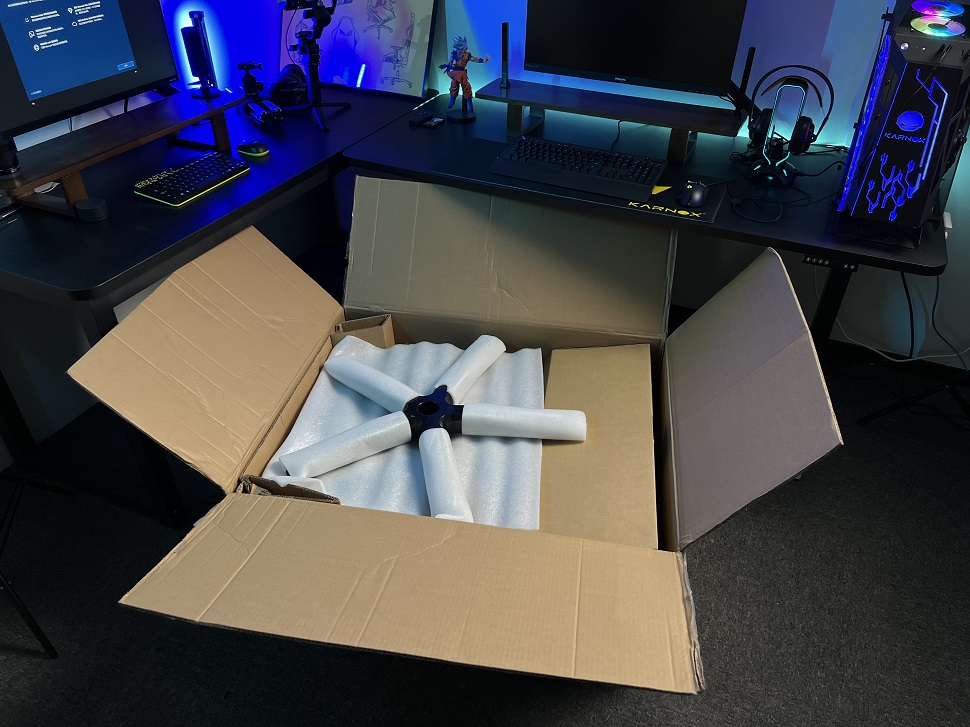 Armrests:
Backrest tilt and adjustable arms are useful. The carbon fiber designed armrests have buttons and switches that let you move it up and down, forward and back, and in and out, do the hokey pokey, that's what it's all about. You can also twist them to face outward or inward.
Pillow:
The chair comes with a neck and lumbar pllow which I don't really use, I just don't like my head being pushed forward and I find the chair more comfortable without the lumbar pillow. Your body will undoubtedly be different, so maybe they'll work for you.
Padding and material:
I much prefer a cloth like padding vs PU leather which I've found to crack and diminish in quality over time, and the cotton like feel of the material here doesn't disappoint. Cushion is firm but plentiful, supportive and keeps you in a good posture. The padding feels nice to my hands and doesn't feel too stiff the way the Secretlab did when I first gave it a good squeeze. My only real concern here is going to be the slim seat as the most important part of a chair for me, is how comfortable it is to sit in for hours at a time and seeing how thin this seat is. My expectations are not the greatest. But, the true test is the test of itme, so after a full month using period, the seat is so comfortable to me. Chair is roomy and could accommodate larger users (I'm only 5'8" 160lbs). Unlike the Titan where I had to get up almost every hour because of butt pain, I've been able to sit in this chair for hours on end with no butt pain, no back pain. My bottom never goes numb no matter how long I sit on it, and while it may not be as soft as and office chair, it's firm, but in a good way. The moment I sit on it, I can feel the nice gentle support, and every parts of the chair is adjustable.
The chair does swivel 360 degrees without changing height and the castors move smoothly and are durable as the star rest does distribute weight equally, but you want to have a chair mat for the castors if you are on a hard surface. And the lean back is extremely comfortable without the star feeling that it will collapse, I even sometimes take power nap tilting it to a certain angle. and the recline is around 155 degrees as it describes though I kind of wish there was a footrest to go the full 180 degrees.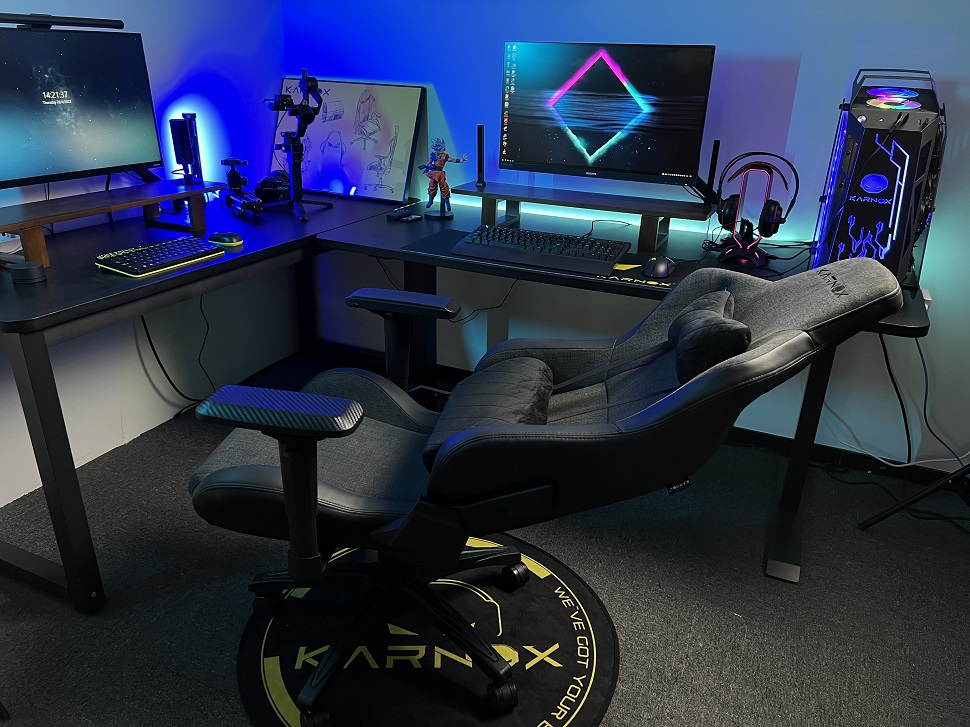 Unfortunately, there are a few minor complains I have.
Firstly, the seat high adjustment doesn't go very high for me. I wish the chair would lift a little higher. At the highest setting my legs are just bent 90 degree, but it does not interfere with normal use. So it is not a problem for me in a strict way, maybe it's a problem to you guys.
Next, the armrests could be a tad more plush. They become uncomfortable on the arms/elbows after longer periods of use. It's a little bit hard for long time using when you keep your elbows on the armrests.
One note: The dark grey version doesn't quite match up with the picture listed. The back of the chair actually covered in the same dark grey fabric, and not the bonded leather in the picture. This was a pleasant surprise for me as I don't really like black chairs. 
 I had to get in touch with the company over a minor issue with the chair and their customer support responded right away and helped me get the problem fixed in no time.
In summary, as I mentioned before, I've never heard of this company but so glad I did, it was a bit apprehensive to purchase this chair. The Karnox Legend is a solid alternative at a cheaper price and I'd have no problem recommmending it to anyone looking for a good gaming chair.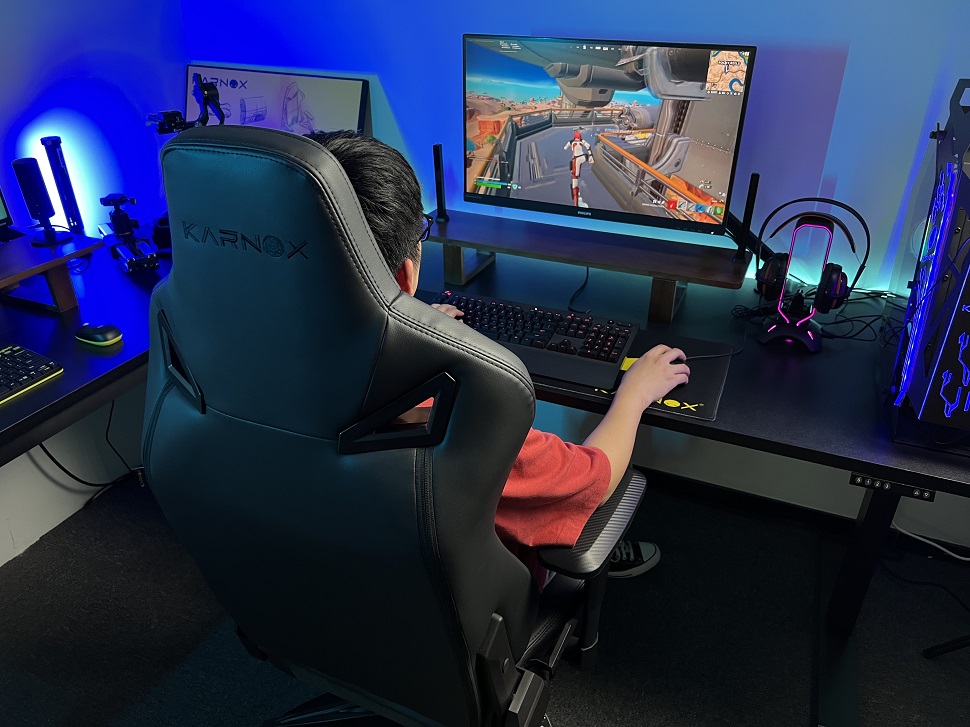 ---