Best gaming chair of 2020
Karnox has the best gaming chairs of 2020, but don't just take our word for it! Find out why ThePapiGfunk and EBPMAN both rave about the chair on their channels
If you stream video games, it's in your interest to research the best gaming chair on the market. Don't settle for lameness. What would your subscribers say?
Whether you're shopping for comfort, quality, appearance, affordability, or a special combination of the four, Karnox has you covered. There are options out there, but why not get the best gaming chair 2020 has to offer?
Our Legend gaming chair has reviews from ThePapiGfunk and EBPMAN. We're about to break down why Karnox won them over.
ThePapiGfunk: "Karnox For Best Gaming Chair 2020"
Check out his Karnox Legend review here.
1. Design
He loved our Legend gaming chair, first and foremost, for its sleek design, and carbon-fibre PU leather. The color accents and stitching make for an attractive chair.
After a five-hour gaming session, he was still comfortable. Long hours in your PC gaming chair shouldn't make your back hurt. The padded headrest is super soft for playing the long game.
2. Adjustability: Hand Rests and Height
Both hand rests are adjustable and shift into any position that helps you get kills and stay smooth in-game. ThePapiGfunk enjoyed using the Legend's 90-155 angle recliner while jamming out to music. There's nothing better than a music-induced holiday in your own flat to celebrate a win. Decked out with nylon caster wheels, the Legend ensures you'll never have trouble moving around your space again.
3. Performance
ThePapiGfunk plays COD Battle Royale frequently, so he's on the market for a chair that locks him in. While he's busy nabbing headshots, he shouldn't worry about adjusting his seated position. According to his experience, "as soon as you sit down, it just hugs you like you don't wanna get up anymore".
4. Price
Get the Karnox Legend computer gaming chair today for £299. It has tons of perks for its price and has unique polish compared with other gaming chairs on the market.
EBPMAN: "The Legend Is a Jack of All Trades"
Find his full Karnox review here.
1. Home Comfort
EBPMAN is all about comfort while working remotely. Anyone who is 5"8' (175cm) all the way to 6"2' (188cm) will sit comfortably in the Legend. The chair supports up to 21 stone.
He was excited about the two pillows. There's one for the head and one for the lower back. These are easy to clean, and as stated above, incredibly soft. You'll feel like you're gaming on a cloud.
2. Durability
He loves our look and emphasizes how the stitching quality is immaculate. The vegan PU leather is another plus for him, as this showcases the chair as a sustainable option on the computer gaming chair market.
The steel frame ensures that the Legend is as tough as the brawls you'll face on-screen. It's built to last and endure.
3. Victory Roll
It's easy to manoeuvre the Legend, and our nylon wheels don't make a noise as you find the perfect setup. Our chairs are designed for easy use. Focus on your game, not your backside hurting.
Let's Get Online!
You deserve the best gaming chair 2020 has to offer. We hope these reviews have inspired you to check out the Legend gaming chair, as well as other models in our line. The Gladiator model has a new pink gaming chair color if you're looking for something outside the standard colour palette.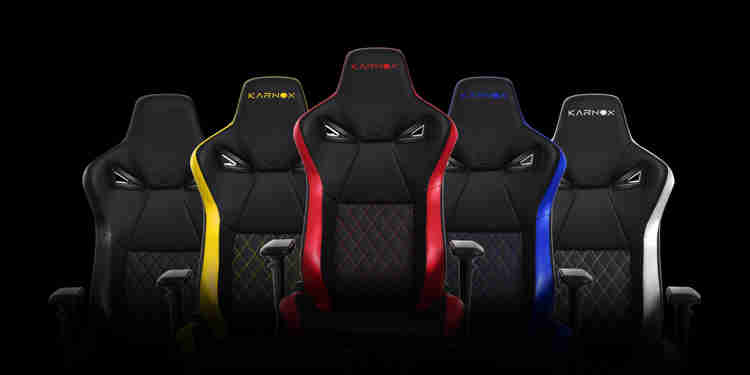 It's dangerous to go alone (without a chair). Take these for a spin!
---